Bitcoin Magazine
Happy Birthday, Bitcoin! A Letter From Ross Ulbricht
Happy Birthday, Bitcoin!
Bitcoin is turning ten, and like many of us, I feel like a proud parent, having watched it grow into its potential over the years. I guess I'm the estranged father in prison though, who can't be there to help raise his kid.
Bitcoin: Mommy, when's Daddy coming home?
Mommy: He'll come home as soon as he can, sweetie.
Bitcoin: Why did he leave us, Mommy?
Mommy: I'll explain when you're older. Now run along and play blockchain with the other cryptos.
Bitcoin as a 10-year-old kid is not a bad analogy. The technology is still very young, still growing. It's been shooting up like a weed and been through some growing pains, but it's barely a pre-teen and has the rocky road of adolescence still ahead. It's something we all have to go through to mature into adults, to discover who we are, and Bitcoin is no different.
We will see in the years ahead what Bitcoin is capable of, how it will be used, and the impact it will have on our world. I have high hopes that our gifted child will exceed everyone's expectations and go on to greatness, but it is still a child that must be nurtured and protected.
Bitcoin needs us to continue guiding it with the values it was founded on, that gave it its potential. We must keep our focus on decentralization, privacy and empowering individuals. We are Bitcoin's advocates and representatives. How far it goes and what it becomes in the crucial years ahead will depend on us. It is a technology with the power to make abstractions like peace and equality into reality. But it's up to us to embody such ideals and be role models for the ever-growing Bitcoin community and for Bitcoin itself.
I'm so excited for what's to come in the next ten years, for Bitcoin and all of its crypto cousins. I just hope I can come home and make up for these lost years and show everyone where my heart truly is.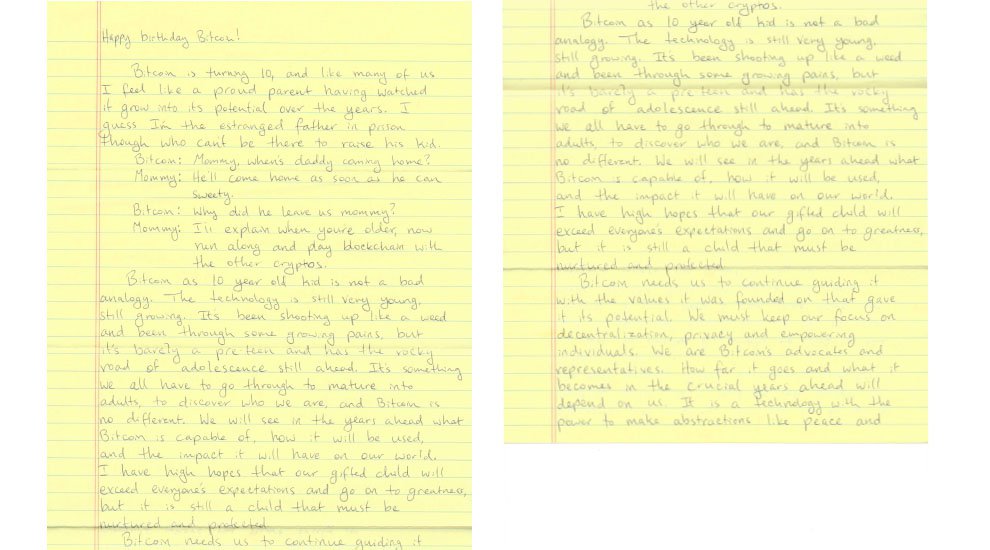 This is a guest post by Ross Ulbricht. It was shared, with permission,  with Bitcoin Magazine by Ross's mother, Lyn Ulbricht. To learn more about Ross, sign his petition for clemency, and support the campaign to free him, please visit freeross.org. Follow @free_ross, @RealRossU and the #freeross hashtag on Twitter. Visit Free Ross on Facebook and freerossulbricht on Instagram.

This article originally appeared on Bitcoin Magazine.